David's Interests

Fitness

David likes to experience the outdoors in Greater Vancouver. In summer, you will find him hiking the Chief, the Grouse Grind and other trails in the North Shore mountains. When off the trails, he is riding on the network of cycling paths around Vancouver and Burnaby. In winter, he will be snowshoeing at Cypress Mountain, Snowshoe Grind on Grouse or on the Dog Mountain trail at Mt Seymour. In between seasons, he often works out at the gym and swims lengths at the Canada Games Pool. Currently, he is trying to add some yoga into his workout.

Frequently, David leads groups out for these outdoor activities, call, text or email him if you wish to join in.
Volunteer and Community Service

Out of 12,000 members, the Real Estate Board of Greater Vancouver recognized David with the 2015 REALTOR'S Care Award for his community service through volunteering. Every year, he is supporting the following community organizations and events:
Planning Committee Member, Ride Don't Hide, Canadian Mental Health Association

Zone Cyclist, Route Map Host, BMO Vancouver Marathon

Sweep Cyclist, Fairmont Mother's Day Run in support of Make a Wish Foundation

Sweep Cyclist, Oasis Shaughnessy 8K Run in support of Leukemia & Lymphoma Society of Canad

Tour Leader, Ride Don't Hide, Canadian Mental Health Association

Bike Tour Leader, MS Society Grape Escape Bike Tour

Transitions Attendant, Subaru Vancouver Triathlon

Traffic Attendant, Giro Di Burnaby Bike Race

Lead Cyclist, Lululemon Seawheeze Half Marathon

Alta Classe Host, RBC Grand Fondo

Cheer Leader, Grouse Grind Mountain Run in support of BC Children's Hospital Foundation

Support Hiker, Mt Kilimanjaro Grouse Grind for Alzheimer's Society

Zone Captain, Run for the Cure, Canadian Breast Cancer Association

Lead Cyclist, Support Cyclist, Sweep Cyclist, Rock n Roll Half Marathon and Cunningham Seawall 10K in support of John Volken Foundation
Many of David's clients and industry associates have joined him in making a difference in our community. Volunteering is an opportunity to get out, be active, get some exercise and be part of a team contributing to community success. Call, text or email David for further information or to join him in the next community event!
David was part of the BMO Vancouver Marathon Cycling Team.
The Team's role is to lead, support and ensure the safety of runners during the race.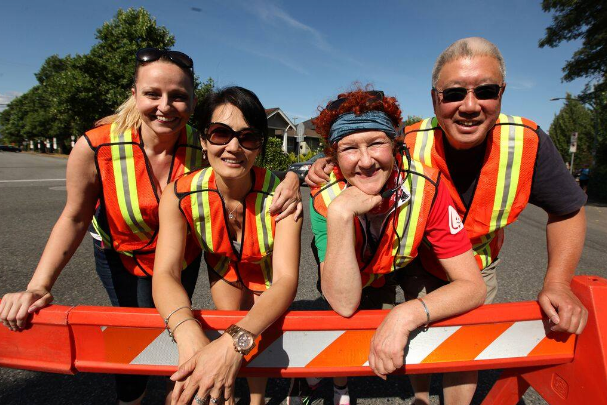 David was a Traffic Attendant to the VIP Parking Lot during the Giro di Burnaby Bike Race


MKGG Grouse Grind Climb for Alzheimer's CIBC Run for the Cure
Travel
David prefers ocean cruises, river cruises or escorted small group land tours. He finds
that very little planning is required and he can see and experience a lot in a very short
time period. Recent trips include:
Oceania Cruise from Auckland, New Zealand to Papeete,Tahiti

Uniworld River Cruise from Paris to Normandy and Paris to Bordeaux

Regent Cruise and Safari, South Africa
Decades Ago
Previously, David was:
President of the Burnaby Mountain Mantas Swim Club and swim meet official

Member of the UBC Dance Club, attaining Silver Level in lessons and in competition placed second for waltz and third for

Cha Cha